Grilled Cheese Master Class
While a grilled cheese can be incredibly simple, most people never understand the techniques and possibilities behind this beloved sandwich.
Course Details
Tutorials in this course: 4
Total viewing time: 27 minutes
Total course time (including prep and cooking): 13 hours

Most of us view the grilled cheese as simply a sandwich composed of cheese and bread, but there is so much more to it.

This course is your opportunity to learn from the chef who revolutionized the grilled cheese sandwich, Chef Dave Danhi. Known for his mastery of the classic grilled cheese, as well as his inventive combinations of cheeses, fillings, and breads, Chef Danhi serves hundreds of thousands of sandwiches every year though his infamous Grilled Cheese Trucks.

The secrets unlocked in this course will forever change the way you approach grilled cheese. Throw away the Wonder Bread.


Chef Instructors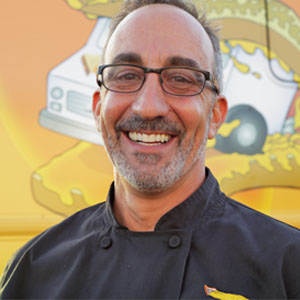 Chef Dave Danhi
Dave Danhi has single-handedly brought gourmet grilled cheese sandwiches to the masses with the proliferation of his Grilled Cheese Trucks. He was inspired to start the business when he entered the 2009 Grilled Cheese Invitational with his Cheesy Mac and Rib Melt (now a signature truck item) and witnessed the growth of grilled cheese fandom first hand.
What You Need
Equipment

- Large and small mixing bowls
- Kitchen knife
- Butter knife
- Spoon
- Spatula
- Sheet pan
- Griddle or non-stick pan
- Bacon press
- Kitchen torch

Ingredients

- Ingredients are listed within each respective tutorial



Tutorials